Amarr Garage Doors
Back To Our Services
Amarr Doors, your viable garage door option
A lot of people find the process of selecting the right garage door for their home a little overwhelming. This is because there are so many things that one needs to consider. For one, the overall look of the door in relation to the house needs close attention. Another thing is that security, as well as other safety features of the door also demand serious thought. As a result, some would randomly pick just about any door and, most often than not, purchase one that does not fit what they need.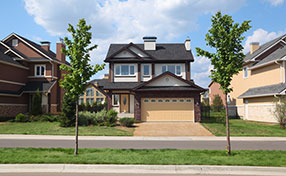 Having been in this industry for a long time now, we at "Garage Door Repair Bedford" endorse Amarr Doors to our clients. We always aim to provide our customers the best possible experience in order to ensure that they are satisfied. To achieve this, we only work with reputable brands of superior quality.
Amarr Garage Door's awesome features
In terms of aesthetics of the door, this company is known to produce beautiful doors that greatly complement whatever design you may have for your door. They have a wide variety of garage door designs that can be perfect for your garage whether you need short or long panels.
One of their most famous collections is the Heritage collection. This collection features doors with Safe Guard Pinch Protection. These doors have patented center and end hinges, safety button brackets, along with an innovative designed pinch protection feature. All these aim to keep homeowners and their family safe from hand and finger accidents.
Heritage Doors are also energy efficient as all garage doors under this collection are equipped with CFC-free insulation. The insulation works by maintaining the temperature in the garage, therefore increasing home energy efficiency. It also works cancelling noise as the insulation layers reduce outside noise brought about by passing vehicles.
More than just being safe and energy efficient, these doors are also constructed in order to bear high wind pressures. This Wind Load reinforcement is added in order to meet local building codes. The amount of wind pressure a door can endure is dictated by an interior wind load reinforcement system that basically addresses the amount of wind pressure in your area.
Heritage Garage Doors is a collection of steel doors; hence it is safe to say that they are sturdy and require less maintenance. But, it would be very helpful to keep all hinges, rollers, and other movable parts clean and well lubricated regularly. Checking the condition of each part like the springs and cables can give you a complete awareness regarding the health of your door. Lastly, a regular professional maintenance checkup of at least twice a year will go a long way.
We can provide you this along with other services like garage door installation as well general repairs like garage door spring and cable repair and replacement. Choosing your garage door does not need to be so difficult for you. We are here to give you an overview of Amarr Garage Doors and all its amazing products you can choose from.